Simple lines using a nail art striping brush either a long or short one can create nail art on their own or add accents.   The example below is a quick yet simple design.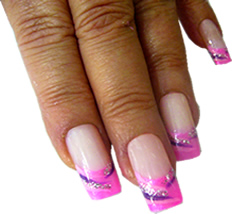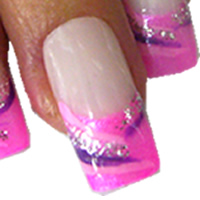 We did these on tips then popped them over the nails.
First step was to create the french smile line, we used Colour Brights nail Polish Hot Pink
Let your french application dry, then using ArtOnNails nail art paintz we did the purple lines using a short striping brush.
We then mixed a little ArtOnNails Hot Pink with some white to get a soft pink colour and then did one line above one purple line and one soft pink line below the purple line (leaving a gap between the two lines), but this time putting this one hard against the purple one.
Our next application was done with some clear top coat and ArtOnNails Glintz, on a piece of aluminium foils place some top coat and then mix in some silver glitter and using your striping brush apply this above both purple lines.  finish with Nail Art top coat.